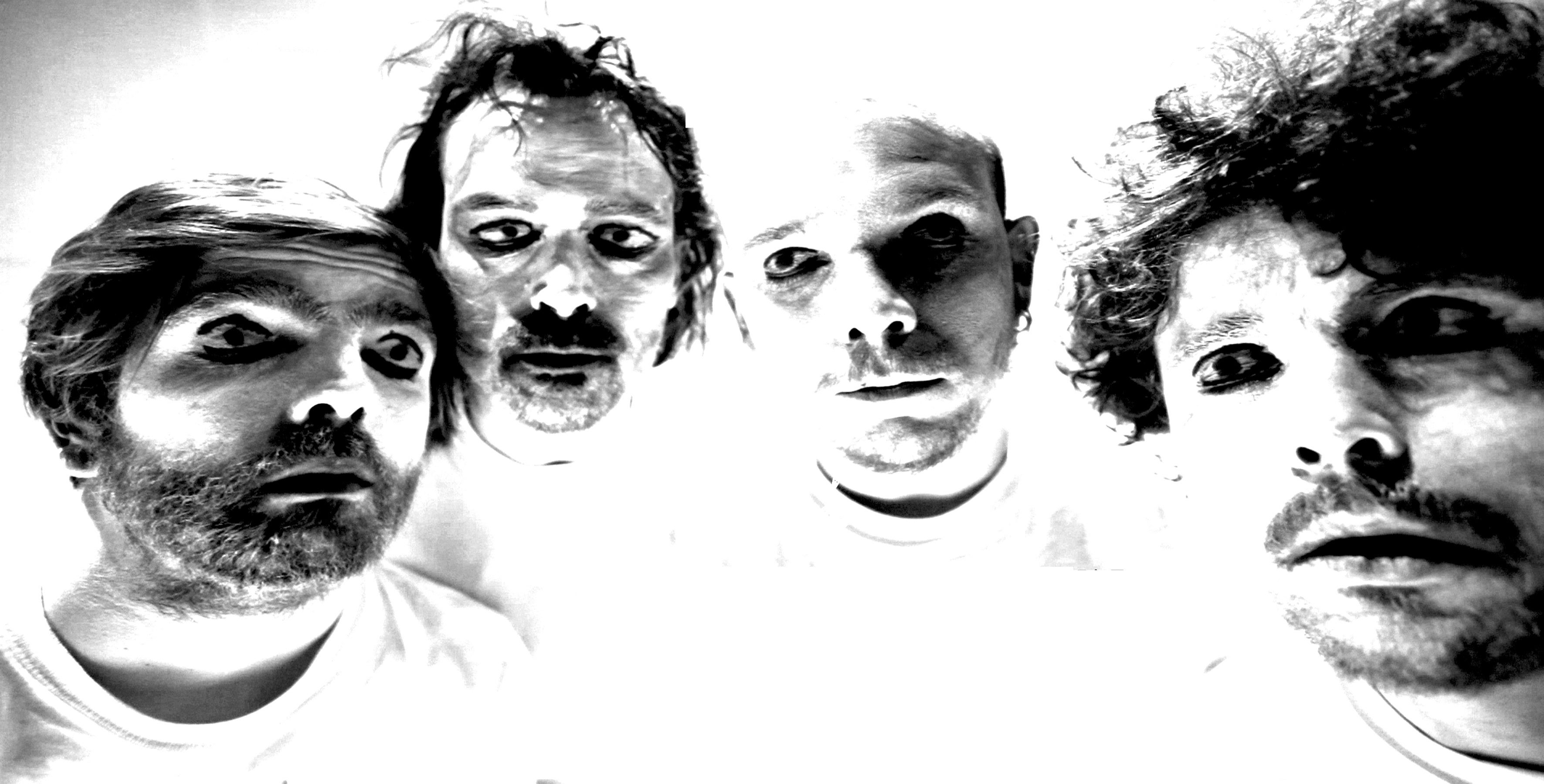 On pourrait faire simple et dire de Ni que c'est un groupe de rock instrumental. On s'arrêterait là et on se resservirait un bon café, regarderait la pochette de leur dernier album en se disant que ça fait du bien de profiter du balcon, que le printemps revient, et qu'on écouterait bien les oiseaux chanter tout l'après-midi, que ça faisait longtemps.
Pour compliquer un peu, on dirait que Ni est un Monstre à quatre têtes. Un grand méchant Ni, qui aurait troqué la linéarité des routes de l'Ain dont il vient contre des architectures impossibles, qui tiennent à grand renfort d'électricité et de polyrythmies apatrides. Dans son temple, le quatuor perce les fenêtres à coup de cris, les murs élevés tiennent grâce à une nervosité virtuose et la qualité des fondations dissipe tout doute quant à la résistance potentielle du bazar pour les siècles à venir. À l'intérieur, c'est la bourrasque continue, des enfants courent un peu partout et leurs parents dansent autour d'un grand bûcher festif au milieu duquel la valse, la forme couplet-refrain et les mesures 4/4 lâchent un dernier râle avant d'être réduites à l'état de cendres.
Anthony Béard : guitare
Nicolas Bernollin : batterie
Benoit Lecomte : basse
François Mignot : guitare
We could just say that Ni is an instrumental rock band. We could just say that, grab a good coffee and look at their last album cover by thinking we're enjoying the balcony. Wecould just be happy that the spring is coming back and that we can hear the birds singing all afternoon. We could just tell ourselves that we have waited a long time for it. However, to complicate it a little, we can also say that Ni is a four-headed monster. The big bad Ni has left the linear roads of the French department of Ain – from which it came – in order to live in a complex world paced by electrical sounds and varying polyrhythms. In its temple, shouts of the quartet make the windows crack, a stunning nervousness makes the walls stand and, finally, the strong foundations remove from ages to come all doubts regarding the durability of all these things. Inside, it is always like a squall: children run in all directions and parents dance around the bonfire. The waltz, the 4/4 time signature and verse and chorus structures take one last breath before being burned to ashes at the core of this fire. After two EPs and many terrific tour dates in Europe that have almost broken the stage, it is time for Ni to release an album. « Les insurgés de Rumilly » invites all those who like frantic riffs to a huge party that celebrates a sweet barbarism. No reply is expected.
Discographie
Les insurgés de Romilly – LP (Dur et Doux – 2015)
Ni II – LP (Jarring Effects / Dur et doux – 2013)
Ni I – LP (Autoprod – 2010)
Tour
Ni
11 mai 2018

Veneno Stereo (CASTELLON - ES)
Ni
12 mai 2018

Resferic festival (VALENCIA - ES)
Ni
13 mai 2018

Kasal de roquetas (BARCELONA - ES)
Ni
28 mai 2018

Centre culturel L'Ilyade (GRENOBLE - FR)
Ni
29 mai 2018

Le Périscope (LYON - FR)
Ni
30 mai 2018

Cuizines (CHELLES - FR)
Ni
7 juin 2018

KulturA (LIEGES - BE)
Ni
8 juin 2018

3 Pièces (ROUEN - FR)
Ni
9 juin 2018

Crumble fest (MONTAIGU - FR)
Ni
10 juin 2018

St Patrick (ORLEANS - FR)