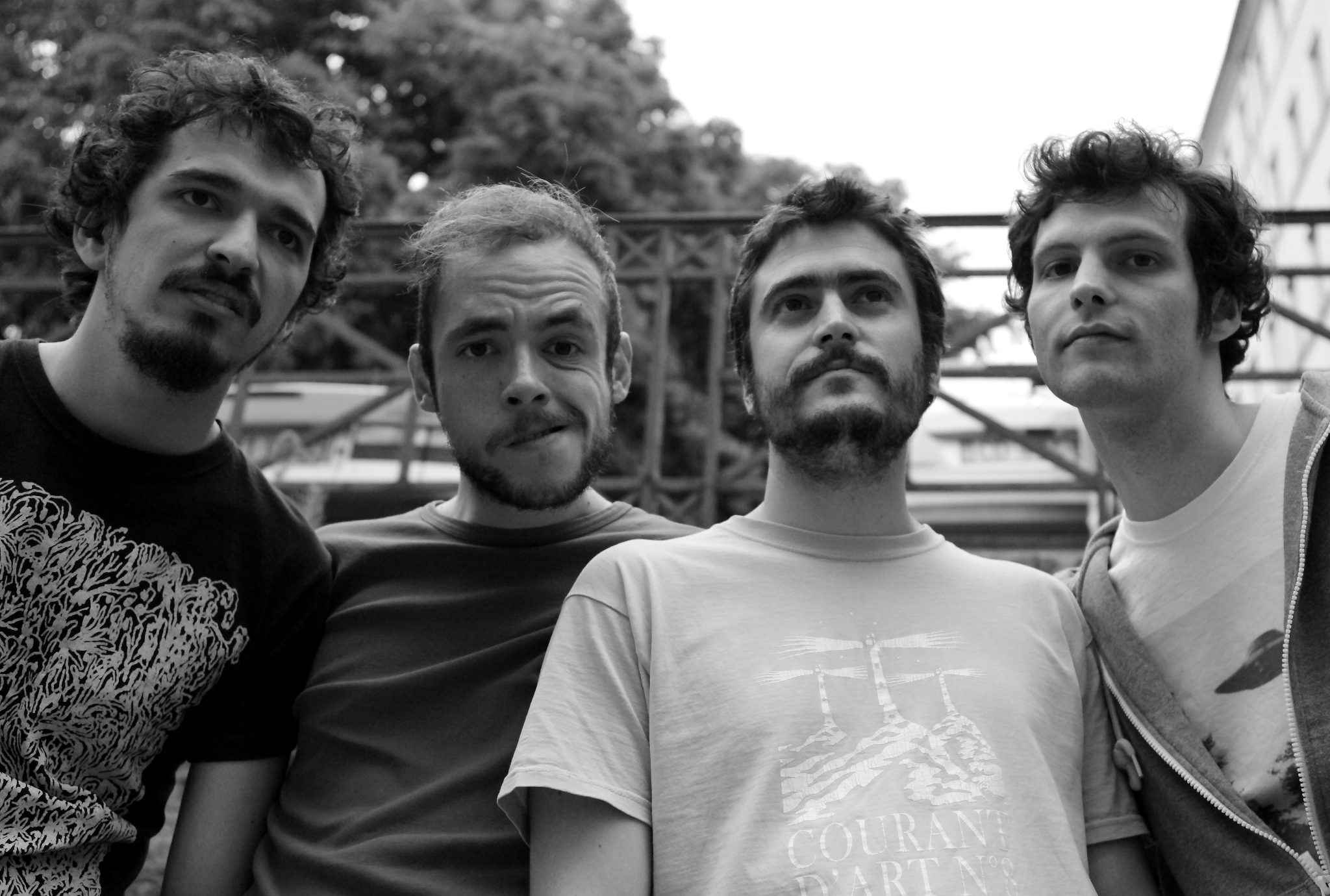 CHROMB! fait du rock sans guitare (ou jazz à distorsion) à destination des adultes émotifs et des enfants sauvages. Musique de chambre capitonnée, sauvage et subtile.
Après avoir sorti trois albums en 2012, 2014 et 2016 (illustrés par Benjamin Flao) CHROMB! tente vaillamment de conquérir le monde par le truchement de récitals donnés en France, en Espagne, en Italie, en Belgique, au Burkina Faso… dont quelques uns en première partie de stars plus ou moins internationales (Deerhunter, Young Marble Giants, The Oscillations, Magma, ONJ, Steve MacKay…), et d'autres dans des festivals si prestigieux que c'en est effrayant (Dancity Festival, Riddim Collision, À Vaulx Jazz, Jazz à Ouaga, Rock in Opposition, Jazz à Luz…).
En 2015, CHROMB! est lauréat du dispositif Jazz Migration.
Léo Dumont : batterie
Camille Durieux : clavier, voix
Lucas Hercberg : basse, effets, voix
Antoine Mermet : alto sax, synthétiseur, machines, voix
CHROMB! is a quartet with strings, reeds, 88 keys and drums in, wired on 220volts, making rock with no guitar, distorted jazz or chamber music for sick kids and emotive adults.CHROMB!'s music is heartfelt more than brain-made, has no prohibition and is the prisoner of no specific style, even if owing a lot to John Zorn, The Residents and Soft Machine.
It's fully assuming same love for catchy pop and fat noise, stealing jazz its freedom, rock its energy, and all kind of deviant musics their insanity, in order to build a fat mutant sound, with melodies, screams, silence and weirdness inside.
Discographie
1000 – LP (Dur et Doux – 2016)
II – LP (Dur et Doux – 2014)
I – LP (Dur et Doux – 2012)
Demo – EP (Autoprod – 2010)
Tour
Chromb!
11 mai 2018

Festival d'Olt (LE BLEYMARD - FR)
Chromb!
12 mai 2018

Le Bled (SOUSPIERRE - FR)
Chromb!
13 mai 2018

Café du cours (REILLANNE - FR)
Chromb!
23 mai 2018

Circolo Pensiero Libero (LECCO - IT)
Chromb!
24 mai 2018

Clandestino (FAENZA - IT)
Chromb!
25 mai 2018

Druga Godba festival (LJUBLJANA - SI)
Chromb! + Flao
9 juin 2018

Amphithéâtre de l'Opéra (LYON - FR)
Chromb!
14 septembre 2018

Rock in Opposition (CARMAUX - FR)
PoiL + Chromb!
29 septembre 2018

Schieszhaus (ZEULENRODA - DE)
Chromb!
10 novembre 2018

La Fraternelle (SAINT CLAUDE - FR)