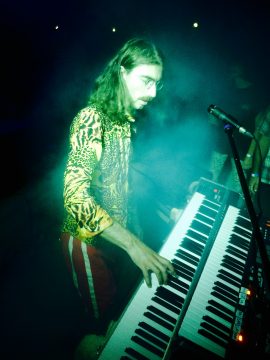 (Ovni Technoïde)
Claviériste surnaturel et virtuose extraterrestriel, il est en solitaire une véritable anomalie iconoclaste, une erreur de casting Marvel recalé au concours pour P4 « superpouvoir impropre et crapuleux ».
Avec ses deux claviers et les phalanges d'un Colossus, il irrite une makina d'auteur absinthé, recrache au plafond les pires incendies dancefloor d'Otto Von Shirach et Venetian Snares ; improvise sans se soucier des retombées écologiques un électro-arabisant saturé qui laisse Omar Souleyman en pâture aux vers des sables sur Dune sans se retourner ; compose la bande originale du remake snuff de « Qui veut la peau de Roger Rabbit ? ».
Une danse du soleil vicieuse, unique et ravagée, un viol hardtek satanique sans matière grasse, une expérience rare, indispensable et remuante à vous en séparer définitivement le cartilage de la chair.
Supernatural keyboard player, Gwyn Wurst, is a virtuoso from outer space: as a soloist he's an iconoclastic anomaly, a miscast super-villain from a Marvel movie too silly to be made, thrown out out of the city for using nasty and villainous superpower.