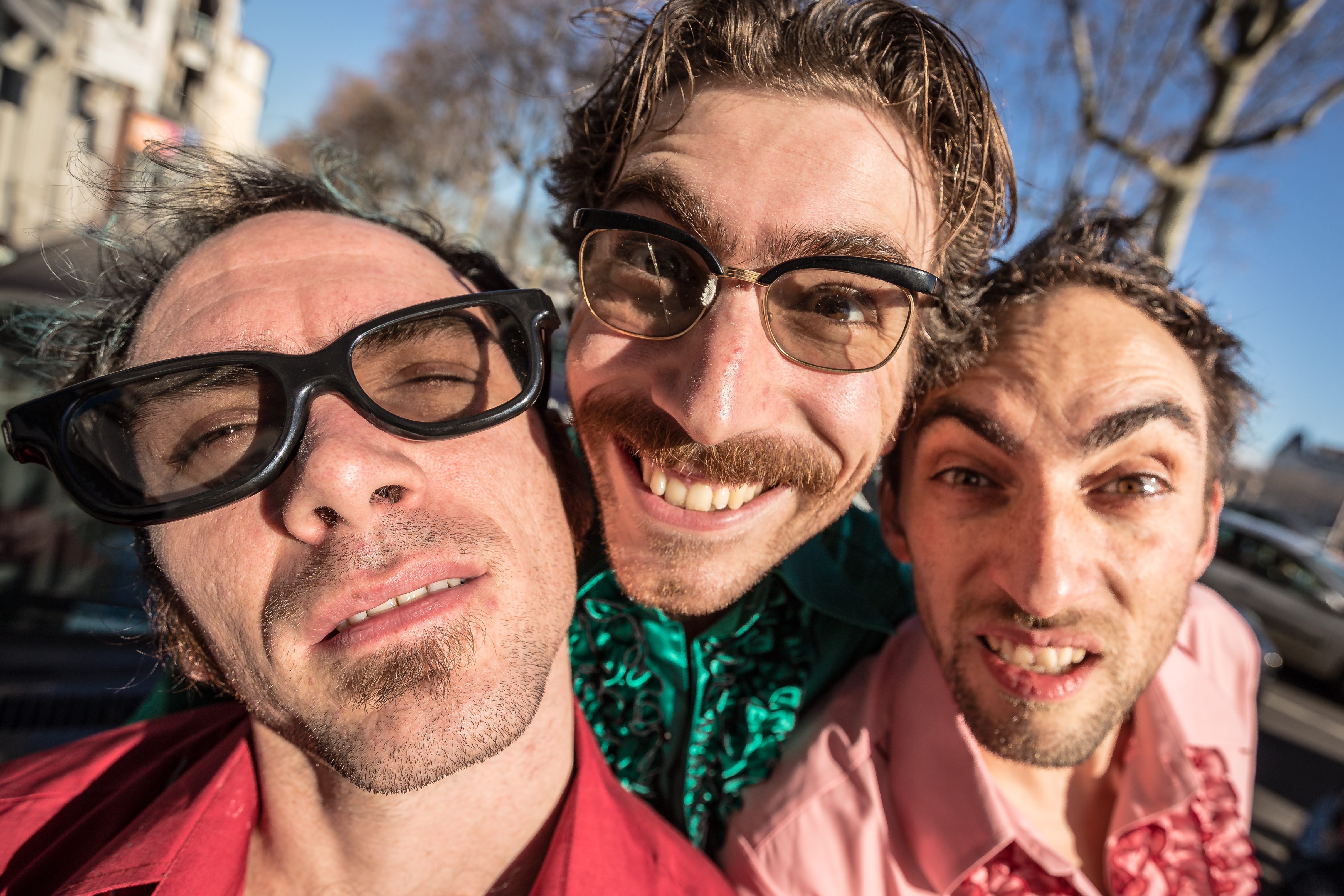 Impressionnant et délirant, PoiL abrite trois musiciens qui ne connaissent pas l'interdit et voguent au gré de leurs projets de musiques libres en groupe punk. A la fois combo rock, ensemble de musique de chambre, usine au bord de l'explosion, groupe de potes… le trio résiste contre la musique imberbe, mêle virtuosité et folie brute, évoquant à la fois Zappa, Frédéric Chopin et Charlie Chaplin. Dans le public, les têtes bougent, et les cris fusent.
Jubilatoire et trapu !
Antoine Arnera : claviers / chant
Boris Cassone : guitare / basse / chant
Guilhem Meier : batterie / chant
Impressive and delirious, PoiL is lead by three musicians know not limitations and prohibitions. PoiL flow, dance and dash between the energy of punk, the beauty of chamber music and the chaos of a factory on the brink of explosion. The trio combines raw madness and virtuosity evoking thoughts of Frank Zappa, Frederic Chopin and Charlie Chaplin. In the audience, the heads bang, the cries burst forth. Jubilant and stock!
Discographie
BrossaKlitt – LP (Dur et doux / Altrock – 2014)
Dins o cuol – LP (Dur et doux – 2012)
L'ire des papes – LP (Autoprod – 2008)
Tour
PoiL
18 août 2018

Mullbrau Festival (LUZERN - CH)
PoiL + Chromb!
25 septembre 2018

Kafe Kult (MUNICH - DE)
PoiL + Chromb!
26 septembre 2018

Freaksow in concert (WURZBURG - DE)
PoiL + Chromb!
27 septembre 2018

Zukunft am ostkreuz (BERLIN - DE)
PoiL + Chromb!
28 septembre 2018

Spedition (BREMEN - DE)
PoiL + Chromb!
29 septembre 2018

Schieszhaus (ZEULENRODA - DE)
Concerts passés :
2018
30.03 Gare de Coustellet (MAUBEC – FR)
29.03 Embobineuse (MARSEILLE  – FR)
24.03 Astrolabe (ORLEANS – FR)
23.03 Le Cap (TOULOUSE – FR)
22.03 Javanaise ( RIVIERE – FR)
21.03 Maure ou Vif (TULLE – FR)
09.03 Périscope (LYON – FR)
24.02 Complexity festival (HAARLEM – NL)
23.02 Ecurie du biéreau (LOUVAIN LA NEUVE – BE)
22.02 Bobble café (LILLE – FR)
12.01 Etable de Mr+ (LOUVENNE – FR)
2017
14.12 La source (FONTAINE – FR)
03.12 Reasonanz AssCult (LORETO – IT)
02.12 Covo Club (BOLOGNA – IT)
01.12 Pepper Bar (MASSA – IT)
01.10 Patronaat (HAARLM – NL)
30.09 Parapluie national (BINCHE – BE)
28.09 Recyclart (BRUSSELS – BE)
27.09 Zollkantine (BREMEN – DE)
24.09 Rock Cafe (PRAGUE – CZ)
22.09 Freakshow festival (WURZBURG – DE)
21.09 Kafe Kult (MUNICH – DE)
20.09 Cafe XXe (FRIBOURG – CH)
19.09 Industrie Str. (LUZERN – CH)
17.09 Tendenze festival (PIACENZA – IT)
16.09 Librairie Compagnon (GRANDRIS – FR)
15.09 Hangar (THOIRAS – FR)
2016
29.09 Le Périscope (LYON – FR)
03.09 La Tannerie (BOURG – FR) + Ni + Icsis + L'Effondras
27.08 Garden Party (PONCILLON – FR)
16.07 Festival Chauffer dans la noirceur (MONTMARTIN-SUR-MER – FR) + Gwyn Wurst
24.03 Zapperlotti Festival (GYSENSTEIN – CH) + Ni
18.03 Wawah the fac (TOULOUSE – FR)
11.03 Phil Grobi (CLERMONT SA†AN – FR) + Sheezahee
01.03 Campus en fête (CHAMBERY – FR)
2015
31.10 Akwaba (CHATEAUNEUF DE GADAGNE – FR)
30.10 Café du Cours (REILLANNE – FR) + Ni
29.10 IPN (TOULOUSE – FR) + Ni
28.10 Barhic (RENNES – FR) + Ni
27.10 Chien Stupide (NANTES – FR) + Ni
26.10 5ème Avenue (ORLEANS – FR) + Ni
25.10 Ateliers Prisma (CHERBOURG – FR) + Ni
24.10 L'Etourneur (CAEN – FR) + Ni
23.10 Cave à Musique (MACON – FR) + Ni
26.10 Freakshow Festival (WURZBURG – DE) + Chromb!
19.09 Festival E2 (BRUSSELS – BE) – uKanDanZ
02.08 Burg Herzberg festival (BURG-HERZBERG – DE) + Ni
30.05 Smöll Festival (CLISSON LES MINES – FR)
29.05 Melle Smells (MELLE – FR)
28.05 Lendemains qui chantent (TULLE – FR)
27.05 Loutre par les cornes (MILLEVACHE – FR)
21.05 La Bobine (GRENOBLE – FR) + Ni
20.05 Le Périscope (LYON – FR) + Ni
16.05 Picolo (PARIS – FR) + Ni
15.05 MJ Rixensart (RIXENSART – BE) + Ni
14.05 Magasin 4 (BRUSSELS – BE) + Ni
27.04 Printemps des Caves (BOURGES – FR)
26.04 Printemps de Bourges (BOURGES – FR)
27.03 IndustrieStr (LUZERN – CH)
13.03 Saint Rodrigue (MENGLON – FR)
13.02 La Cordonnerie (ROMANS S/ MISERE – FR)
2014
28.12 Bambi (BAMBERG – DE)
27.12 Monsters of Närmberch (NÜRNBERG – DE)
16.11 Casotto (LUGANO – CH)
14.11 Alarma Punk Jazz (SOFIA – BG)
12.11 Roham (BUDAPEST – H)
11.11 Kset (ZAGREB – HR)
10.11 Tovarna Rog (LJUBLJANA – SLO)
08.11 Ambassada SKM (BELTINCI – SI)
07.11 MKSMC (KOPER – SI)
06.11 Dvorna Gustaf Pekarna (MARIBOR – SI)
04.11 Le Périscope (LYON – FR)
16/17.09 Rock In Opposition jeune public (CARMAUX – FR)
09.09 Jazz Off (COLMAR – FR)
08.09 Le Grattoir (GERARDMER – FR)
07.09 DMC (MULHOUSE – FR)
06.09 Ekotonne (MONTPELLIER – FR)
16.08 Misty Mountain Festival (LILLINGHOF – DE)
06.08 Festival Rock on the l'Oule (LA MOTTE CHALANCON – FR)
03.08 Festival Alternativ (ECOLE EN BAUGES – FR) + Chromb!
01.08 Burg Herzberg Festival (DE)
27.07 Festival de Cauberotte (MONCRABEAU – FR)
28.06 Fusion Festival (LÄRZ – DE)
27.06 Marie Antoinette (BERLIN – DE)
25.06 Klub Centrala (KOLOBRZEG – PL)
24.06 Klub Mozg (BYDGOZCZ – PL)
23.06 Klub Barka (PILA – PL)
22.06 Avant Garde FEstival (SHIPHORST – DE)
20.06 MJ Rixensart (RIXENSART – BE)
19.06 Phoenix (MONS – BE)
18.06 Café Central (BRUXELLES – BE)
08.06 Musikaren Eguna (ORDIARP – FR)
07.06 Altrock Day (MILANO – IT)
06.06 Match & Fuse Festival (ROMA – IT)
23.05 La dure beuglante de la douce abeille (LYON – FR)
07.05 Centre FGO Barbara (PARIS – FR) + Gwyn Wurst
03.05 Jour de Foire (BARSAC – FR) + Pigrider
26.04 Printemps (BOURGES – FR)
25.04 Baboon Fest (CAEN – FR)
19.04 Showcase Disquaire Day (LYON – FR)
26.03 Marché Gare (LYON – FR)
01.03 Fanfulla (ROMA – IT)
28.02 La Centrale (PISA – IT)
27.02 Clandestino (FAENZA – IT)
22.02 Gerardm'electric festival (GERARDMER – FR)
2013
28.12 Monsters of Närmberch (NÜREMBERG – DE)
27.12 Kraftfeld (WINTERTHUR – CH)
20.12 Molodoi (STRASBOURG – FR)
03.12 Live Radio Sol FM (LYON – FR)
02.11 Magasin 4 (BRUXELLES – BE)
01.11 L'Amisère (LILLE – FR)
28.09 Salle du Môle (GENEVA – CH)
27.09 Freakshow Artrock Festival (WURZBURG – DE)
25.09 Industrie 9 (LUZERN – CH)
22.09 Celticpub (TARBES – FR)
21.09 Festival Rock in Opposition (CARMAUX – FR)
19.09 Blacksheep (MONTPELLIER – FR)
18.09 Raymond Bar (CLERMONT – FR)
14.09 Tournée Bistrophoniques (ORLEANS – FR)
13.09 Espace B (PARIS – FR)
11.09 Totem (NANCY – FR)
08.08 Rock on the l'Oule (MOTTE CHALANCON – FR)
29.07 Jazz au Lavoir (LES VANS – FR)
15.06 Rupt'ure Fest (RUPT S/ MOSELLE – FR)
11.06 Itinérances des Poissons Rouges (VALENCE – FR)
08.06 NTH8 (LYON – FR) + Brice et sa pute
08.05 Nadir (BOURGES – FR)
05.05 Périscope (LYON – FR) + Ni
04.05 Festival Jour de Mai (GENEVE – CH) + Ni
03.05 Freakshow Minifestival (WURZBURG – DE)  + Ni
02.05 Clearing Barrel (KAISERSLAUTERN – DE)  + Ni
30.04 PDZ (BESANCON – FR) + Ni
29.04 Stereofish (GRENOBLE – FR) + Ni
28.04 Clandestino (FAENZA – IT)
27.04 Forte Fanfulla (ROME – IT)
26.04 Rebeldia (PISA – IT)
19.04 Festival Phil Grobi (CLERMONT – FR) + Ni
2012
12.01 Clacson (LYON – FR) + Brice et sa pute
28.10 La Rodia (BESANCON – FR)
04.10 Café Central (BRUXELLES – BE)
03.10 Catch (LONDON – UK)
01.10 Wharf Chamber (LEEDS – UK)
30.09 Mello Mello (LIVERPOOL – UK)
29.09 Lancashire & Somerset Festival (BISHOPS CASTLE – UK)
28.09 The Polish Parish Club (BRADFORD – UK)
27.09 13th Note (GLASGOW – UK)
26.09 The Bay Horse (MANCHESTER – UK)
24.09 5ème Avenue (ORLEANS – FR)
23.09 Le magasin général (TARNAC – FR)
22.09 Le Temple (SAINT MARTIN DE LANSUSCLE – FR)
21.09 L'Embobineuse (MARSEILLE – FR)
19.09 La Péniche (CHALON SUR SAONE – FR)
18.09 Festival Groland (TOULOUSE – FR)
15.09 Festival Ca fait zizir (LYON – FR)
14.09 Le Bocal de la sauce (APT – FR)
31.08 Festival Freakshow (GIGORS – FR)
10.06 Festival des murs à pêche (MONTREUIL – FR)
08.06 Festival Stereo Fish (MASSANGRE – FR)
12.05 Tiz Zigget (TOURNUS – FR)
11.05 Fête des 01 (ORLEANS – FR)
10.05 Eve (LE MANS – FR)
08.05 La cantine de Belleville (PARIS – FR)
07.05 L'International ( PARIS – FR)
29.04 Le Saint Antoine (MACON – FR)
28.04 L'écluse (REIMS – FR)
27.04 Le caveau du grand Sauvoy (NANCY – FR)
26.04 La Cour des Miracles (BESANCON – FR)
25.04 Le Brin de Zinc (CHAMBERY – FR)
24.04 L'Usine (GENEVE – CH)
21.04 Le Café Charbon (NEVERS – FR)
20.04 Le Croulag (PEYRELEVADE – FR)
19.04 Guingois du Vallon (MARCILLAC VALLON – FR)
18.04 Raymond Bar (CLERMONT FERRAND – FR)
17.04 Larsen (SAINT-ETIENNE – FR)
15.04 Mazagran (MARSEILLE – FR)
14.04 Black Sheep (MONTPELLIER – FR)
13.04 Amanita Muscaria (TOULOUSE – FR)
12.04 Crée Louche (ENGOMER – FR)
11.04 Celtic Pub Isnotapub (TARBES – FR)
18.01 Sonic (LYON – FR)
17.01 Le Raymond's Bar (CLERMONT FERRAND – FR)
2011
02.12 Toi Toi (LYON – FR) + Brice et sa pute
17.09 Chalon des Arbres (ROMAN SUR ISERE – FR) + Brice et sa pute
16.07 Cas Barré (AUREL – FR) + Brice et sa pute
15.07 Up & Down (MONTPELLIER – FR) + Brice et sa pute
09.07 Experience(s) Festival (LYON – FR)